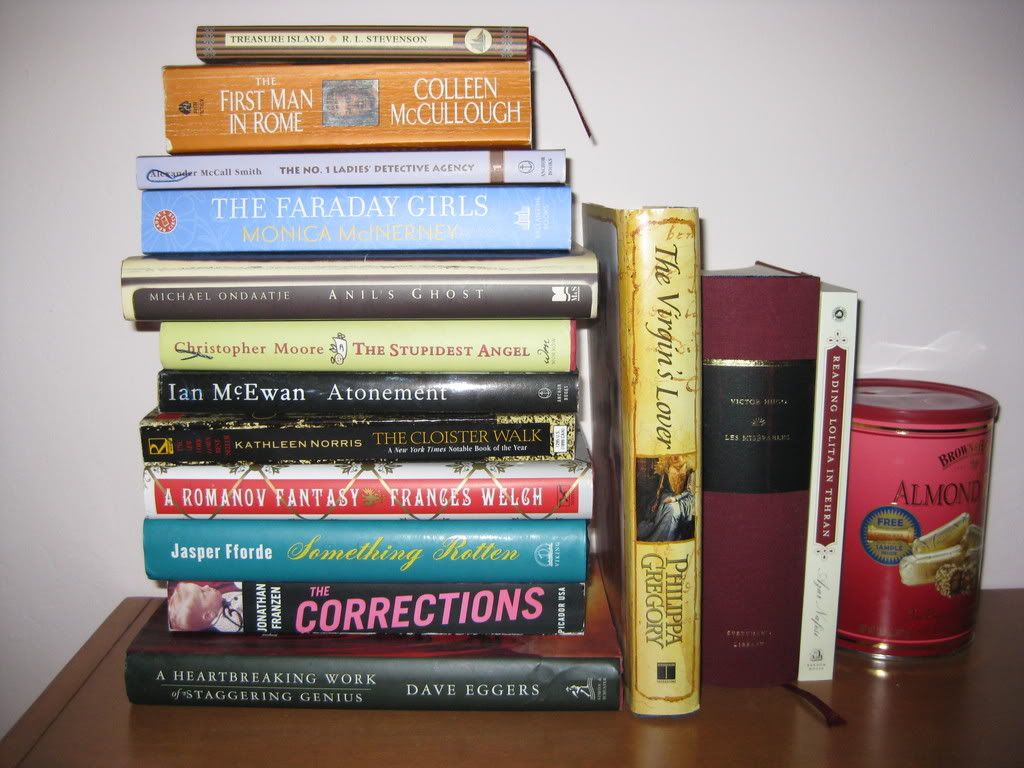 Summer's here, and my book-buying disease has flared up to meet it. I'm a bargain-hunter, and lucky to live in a neighborhood where my neighbors read good books and instantly drop them off at the local thrift store. Their $26 investment is my $1 steal. The stack in the picture doesn't look too bad, unless I tell you that it's only the overflow from a long shelf of unread books. I intend to read all of them, but maybe not this summer.

My kids have inherited the good half of my book-consumption gene. They actually read every book that interests them. Jungle Boy and Drama Girl in particular, read to the point of obsession. We're talking multiple books in a day. Sounds like a good problem until it's yours. I've had to take books away because they got in the way of participating with the family or eating a meal. I've had to make rules like "Don't read while you're walking" and when the Harry Potter craze got out of control, I had to lay down the law "No reading Harry Potter in the house." It made them put on their shoes and get some fresh air as they took their books outside. Mine are the kids who read under the covers with a flashlight.

I rarely read aloud to the kids these days, unless it's to entice Drama Girl to read Dickens. I wanted to figure out a way to continue our shared reading experience though, so I asked the kids to make a list of books they thought I should read. For those, like me who haven't read children's literature lately, I can tell you that there seem to be a lot more great books for young people than when I was young and haunting the library. My kids came up with a list of about 30 books that they can't believe I haven't read yet.

The first book I've started is from Wasabi Girl's list and I have actually read it before. "Little House in the Big Woods." It's better than I remember. It's like an old friend. I'll probably finish it today and start on Matilda, from Drama Girl's list.

Pass the Almond Roca, it's summer reading time.