Have you ever heard that tell-tale rattle that tells you the vacuum cleaner has slurped up another lego or Barbie shoe? Have you sworn you will never buy another toy with 57 tiny little parts again? Do you harbor the secret suspicion that your kids would never miss some of their toys if they disappeared? Have I got a craft project for you!

First, you need a bunch of tiny annoying toys. I didn't have to look far to find this collection of Littlest Pet you-know-what all over the floor: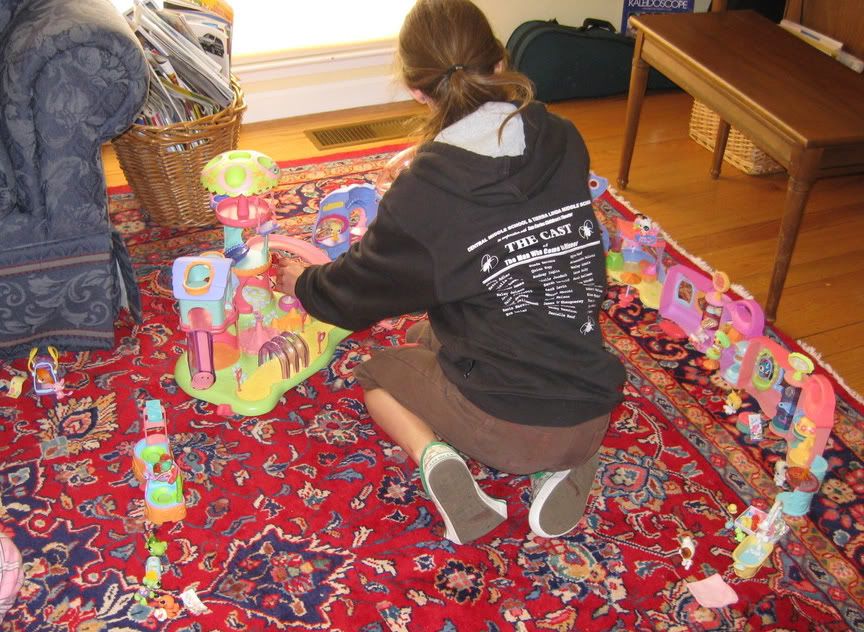 Let's take a close up of these nearly microscopic pieces. Why do kids love these so much?
Although these tiny toys were tempting, I scooped up a bunch that were even tinier. That little chick with the weird stretchy clothes. Polly Costalot Pocket.
Along with the toys you will need a plastic jar. I used a sprinkles jar for this one, but you could use a peanut butter jar. Don't have a peanut butter jar? Come to my house. My kids inhale it.
You'll also need some pellets that are used to stuff beanbags. These are easy to find at craft stores. I keep mine in a jar, and I keep a funnel with them.
Next, make a list of all the little stuff you've collected.
You see where this is going, don't you? Stuff those toys in the jar. Even this little jar held a bunch. Imagine how many you could put in a big peanut butter jar.
I recommend a funnel to get the pellets in the jar. Live and learn. You can build up some static electricity here, so be careful.
Isn't it cute? Looks like she's drowning in an avalanche or something.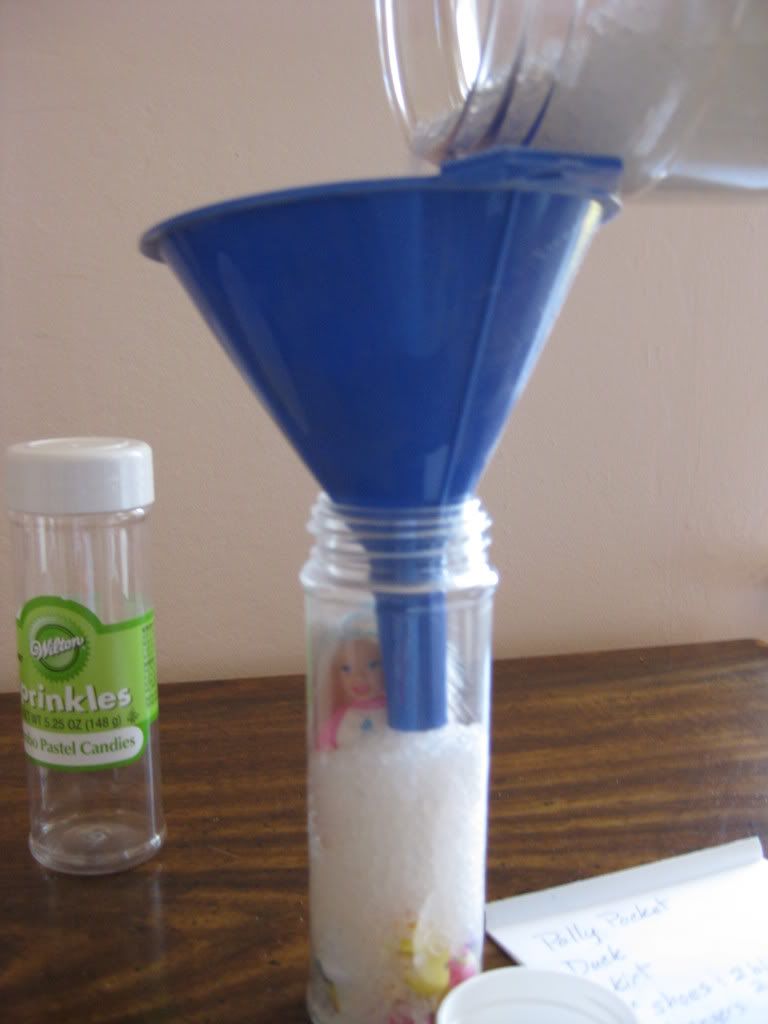 Most important step: Seal it up with your hot glue gun. Give it to the kids with the list of little things to find and listen to their shrieks of delight. Or just shrieks. In my house, after trying in vain to get the top off (I told you to glue it!), all Wasabi Girl could say was "That was my best one!"
Of course now, she seems to remember to pick them up.