This is Drama Girl's locker. Somehow, she has to fit a gigantic backpack in here, along with a lunch bag, numerous notebooks, sweatshirts, PE clothes. This is her space, so I didn't say anything. I thought the frogs taped to the door were a nice touch, but I have my doubts as to whether all those Littlest Pet Shop magnet toys will stay on the top.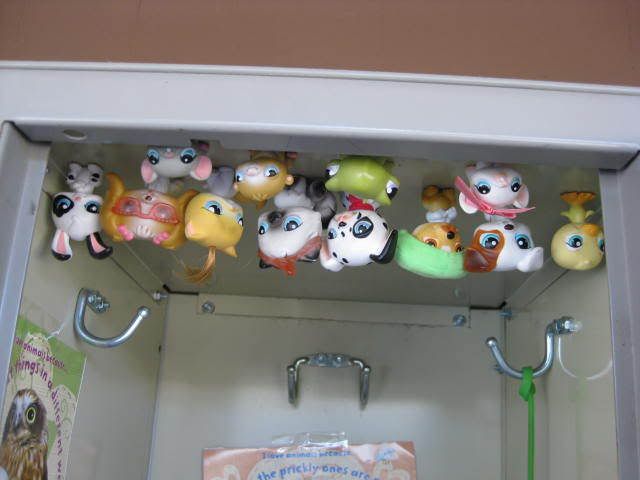 I'm sure I wasn't half this insane when I was entering seventh grade. Of course, it helps that I've completely forgotten what I kept in my locker.

Poor Wasabi Girl had tears in her eyes on registration day. She's getting a new locker and it's not ready yet, so she couldn't unload her big bag of decorations and magnets.

Jungle Boy has a locker on the bottom row. When he was practicing his combination he closed the door part way, and the bottom corner stuck out. I tapped it with my foot, then I realized what I had demonstrated.

"Don't ever kick your locker!"

Too late. I saw the gleam in his eyes. Bad mommy.

Monday morning, I will do something new and wonderful for me; I will drop off three children at the same school at the same time. This hasn't happened in years.

Then I will come home and sit. In my nice quiet house. Just sit. Aaaaah.