I found the panicked call on the answering machine. I had been on the way home from dropping him off when he left it.

"Mom! Somehow one of the shoes fell out of my ballet bag! It must be on my bedroom floor. Can you please bring it?. . ."

At that point apparently, his big sister picked up the phone and told him to "suck it up and wear a pink one from the loaner basket." Helpful big sister, that one.

To her credit though, she did tell me of the "emergency" as soon as I walked in the door. In the same breath she reassured me that there were plenty of loaners and he would be just fine.

Later when he got home we looked everywhere for that other shoe. We even searched the ballet studio and the parking lot. I reassured him that the dance store opened at 10:00 on Saturday so we could get him a new pair before the Nutcracker rehearsal. But he was still crestfallen.

"But mom, that one's special. It's my first pair of ballet shoes!"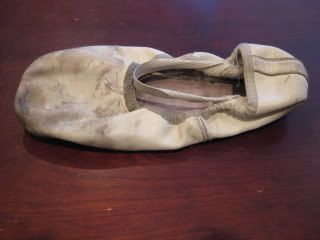 It's mangled and scuffed and has not fared well from my attempts to add white polish to it. But apparently this nasty looking item holds a lot of sentiment for my boy.

I'll save it for him.