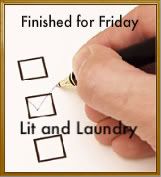 Today's post doesn't have a picture, because my "finish" for this week leaves me nothing to show.
I've packed up every last bit of the Christmas decorations. Boxes and boxes. Christmas china all put away, Christmas towels washed and stored. Even the Christmas shower curtain is retired until next year. (What? You don't have a Christmas shower curtain? You must get one!)
The model village and all its villagers are snoozing in their styrofoam inside a big trunk. The Christmas doormats and bath mats have been cleaned and dried and rolled up. The vintage Santa from the front porch is hiding behind the fridge downstairs. (He likes it there, reminds him of the North Pole).
As much fun as I have decorating for the holidays, it sure is a mammoth job to put it all away. The house looks rather bare now, and the kids are asking where the Valentine's Day quilts are. *sigh*.
Hope you've had a great week. Get anything done? Link up a post (doesn't have to be today's post) and we'll come visit and congratulate you. Grab the button from my sidebar and add it to your post or sidebar. Thanks!