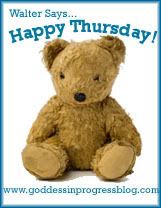 Happy Thursday! I'm in a great mood today because my poor ancient cat Ashleigh seems to be on the mend. I'd include a picture of her but she's lost so much weight that she's a shadow of her former self. My dear husband has gone as far as buying chicken and roasting it so he can feed her little nibbles to whet her appetite. Spoiled cat much? Cute husband much?

She's back to her old demeanor and loud purrs so we're all grateful. I'm also very grateful for my wonderful vet.

To join in on Happy Thursday, visit Goddess in Progress.

I'm thinking of my twins at Outdoor school today. Last week was gorgeous here in Northern California with record-breaking heat, so of course this week it's raining buckets. According to their big sister, who has been to outdoor school and in general knows everything, they have to go on hikes and do their nature lessons rain or shine. At least the cabins are snug and heated. And I know they have extra socks and such. Hope all their jeans aren't wet yet. I need to think of a special wonderful dinner for their homecoming tomorrow night.

Please join me tomorrow for "Finished for Friday" and link up a recent post of a project/book/craft you've finished. I promise to come cheer you on!