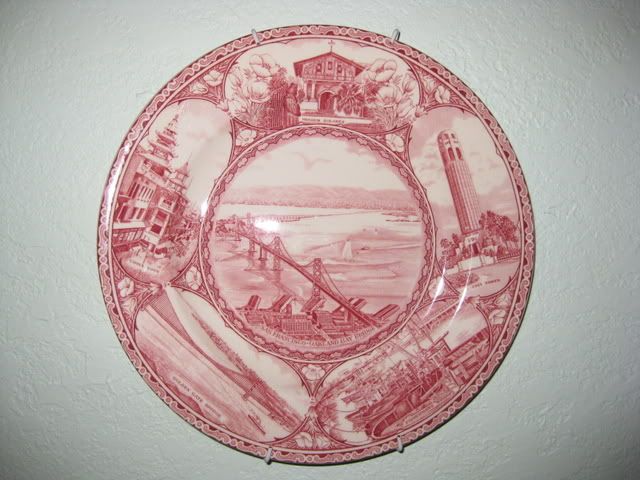 I have quite a few pink Staffordshire transferware souvenir plates and this is one of my favorites. I know when you think "San Francisco," you think "Bay Bridge." Or maybe not. That's what makes this plate so funny to me. The iconic Golden Gate Bridge is in the lower left, and the less than gorgeous Bay Bridge is featured in the middle.

It was the longest bridge ever built when it was completed in 1936. This plate probably dates from that year. My father-in-law was driving on this bridge when part of it collapsed during the Loma Prieta earthquake. He walked off with all the other stranded drivers, and retrieved his car later when it had been towed. There was no turning around and driving back possible that day.


Vintage Thingies Thursday is hosted by
Colorado Lady
. Give her a visit and see who else has vintage items to show.
Tomorrow is "Finished for Friday." Get ready to join in and show something that you've accomplished this week. And don't forget to enter my
giveaway for a pair of troll totes
!