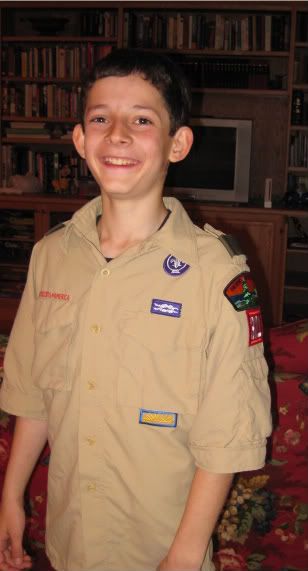 This week Jungle Boy had his first Boy Scout meeting. Even though he'd only been a scout for a few days, I wanted to convert his Webelos uniform shirt to his new and improved Boy Scout shirt. Because I'm a cool mom like that.

When last I had an adventure in ScoutPatchLand, I used the easy to apply gummy adhesive stuff. "Just stick it on!" they said at the Scout store. "Works great!" Sure did! All those Cub Scout patches went on easy-peasy.

Taking them off however, was another matter. First I pulled the patches off. This left big gummy splotches of blech behind. I tried all kinds of stuff to get it off. Hours to go until his meeting and I was staring at a ruined shirt. I grabbed the car keys to get him a new shirt at the Scout store because you know, cool mom.

The kind elderly gentleman at the scout store tried to talk me down. He told me I wasn't supposed to pull off the patches and assured me that if I used "Goof Off" the blech would come right off. I buzzed back home and grabbed my trusty bottle. After another 40 minutes I had a shirt with plenty of blech left that smelled like lemony Goof Off. Jungle boy didn't get to wear his shirt to the meeting that night. My cool mom level took a dive.

But the trusty dry cleaner got all the adhesive blech off, and I've sewn all his new patches on. I'm scratching this off my to-do list now. *Phew*

What have you finished up this week? Add a link below and grab a button from my sidebar if you'd like to play along. Thanks for joining in!