Here is another block for "A Christmas Wish" from Gail Pan. I was halfway through the flowers when I realized I'd misread the instructions decided to use my artistic license and made the flowers green and the leaves white. I might do this block over. Or I might keep it, because 1) who will notice? and 2) it will remind me of how distracted I am all the time right now. Lots of things going on.



These are the last 2 blocks for the Christmas Mystery block of the month from Fat Quarter Shop. Now it's time to put that whole quilt together. I haven't been able to sew much lately though, because it's hard to negotiate the stairs down to the dungeon where my sewing machine lives.



Here is another finished ornament for someone special. I hope everyone wants handmade ornaments this year. My kids think this is so funny because it just says "Merry." "Merry what mom?" I think it speaks for itself. I like simple statements like this.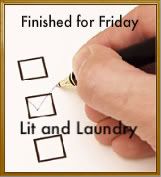 Now it's your turn! Share what you've checked off your list this week. Doesn't have to be crafty, that's just me. Grab the code for the button from my sidebar if you'd like.