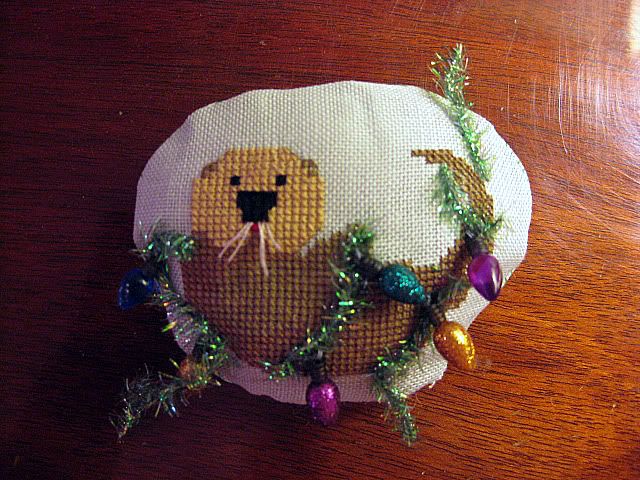 This is a sea otter Christmas ornament for my husband, because nothing says Christmas like marine mammals wrapped in tinsel.

For those of you who aren't familiar with sea otters, they wrap themselves up in kelp to keep from drifting away when they take naps. My husband and I have had a lot of fun trips to Monterey to enjoy the sea otters, his favorite animal.

I still want to put some trim around the edge of this (which will hide the lumpy edge), but my husband came home from his business trip sooner than expected so I had to stash it away for now. I'm probably finishing it as you read this.

This is all I finished up this week, although as usual, I have a lot of projects in the works. This coming week will be the last week of school for the kids - hooray! I think we're all about ready to end the academic routine for now.

What have you finished up this week? Special pats on the back to those of you tackling big decluttering jobs! I love seeing the before and after pictures!

Grab a button from my sidebar if you'd like to add it to your blog. We'll try Mr. Linky again this week, even though he's been a bit temperamental lately. Just click on the little box and he'll open in a new tab for you. Thanks for playing along and have a great weekend!