This little quilt has a long history. I made most of these blocks during a workshop at Asilomar led by Jean Wells. I bought about a hundred different fabrics during the course of construction.

Once home, I got distracted set the blocks aside temporarily and turned to other projects.

That was a few years ago. In the interim, I took the blocks out, made a few more, and scattered them around the margins of my design wall. They looked so pretty up there.

You know what happens when you have something in plain sight for a long time? You don't see it any more.

But thanks I think, to the cold medicine I took this week, I finally got the urge to take them all down and assemble them into a quilt. Not as big as I was first planning, but if I were to wait any longer for the urge to make more blocks, it would just never happen.

So hurray for mush-brained creativity! I've already filled the space on my design wall with another work in progress.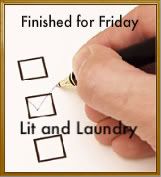 What have you been up to this week? Link up and let us know. Be sure to visit all the other players and give them a pat on the back.