This week I finished this book, The Help, by Kathryn Stockett.

It's a vivid account of the experience of African-American domestics and their relationships with the white women they worked for. While helping raise the children and keep the silver polished for their society employers, the maids face the overt racism and subtle realities of segregation in Jackson Mississippi in 1963.
Although it's a novel, it's clear that the author has experienced the time and place first hand. The characters are wonderfully realistic and I cared about what happened to each. The plot swings in a predictable arc with shocking and amusing twists along the way.
It's an empowering book, with each of the main characters ultimately finding the voice she didn't know she had. Inspiring and optimistic in the end. I highly recommend it.
I also finished the next block in my "Hocuspocusville" quilt. I just finished it this minute in fact, so you are seeing it in all of its unpressed glory. I love the signs advertising "wart enhancement" and "mole hair braiding." The artist who designed shares my of sense of humor.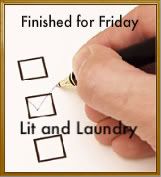 What have you been up to this week? I love to see your accomplishments. Please join in and let us congratulate you. Have a great weekend!