I was going to take a nice close up of this finished Halloween pillow I made out of felt, but how could I resist a shot with some black cat models nearby?

The patriotic quilt has to come off the wall, but I still haven't finished the Hocuspocusville quilt yet. I will be so happy when that's done and on display. I'm counting on next Friday.

The Christmas tree lots are already going up in our neighborhood (no trees though yet), so I am feeling the holiday pressure mounting.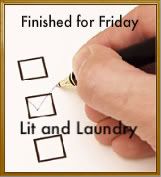 What are you doing for Halloween? What have you finished up this week? Join in with a recent post, and be sure to read the other participants and congratulate them on their hard work. Feel free to grab a button from my sidebar. Have a great weekend!