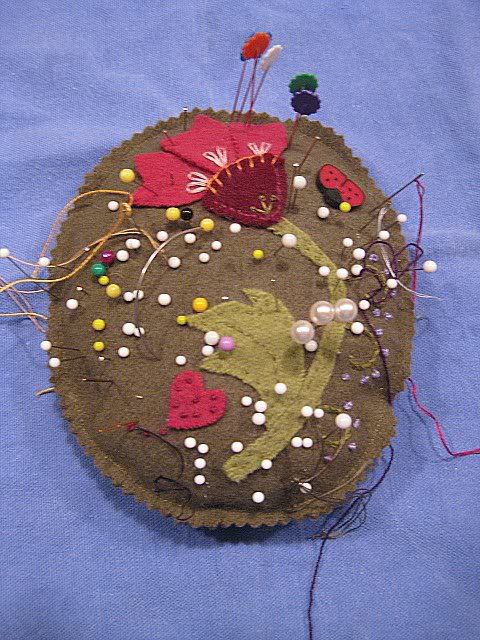 Back in olden days B.H. (before husband), I used the arm of a chair to hold my pins and needles. But just as I was able to teach my husband to use coasters, he was able to teach me to use pincushions. It's a happy bonus for me that there are so many cute patterns to make pincushions. (For a kit to make this one, click here).

Pincushions always start out so pretty and bare. I don't know how they get this way. Why do I have so many kinds of pins? I don't remember ever buying them. On closer inspection, this pincushion is like a hidden picture puzzle. Can you find the 3 corsage pins? The curved upholstery needle? The gold needle? The really embarrassing thing is that I have a pincushion in every room, and they all look something like this.

It's a mini metaphor for life - sometimes you're the cushion, sometimes you're the pin. As a parent, I remember when everything started out so easy. I don't remember how each care and worry got stuck to me, but I accept them all as part of my job. One by one they're not too painful, but some days I look at the big picture and I feel like I'm being jabbed on all sides.

That's my deep thought for today.