I have a favorite planner that I've used for years. It's called the Uncalendar. I swear by its graphic layout with lots of individual boxes for all the different balls a typical person has to juggle every day.

My kids have been admiring mine and they each asked for one recently, so I happily ordered them. We usually spend some time on Sundays lounging in the living room and making lists. I never tell them to do their planning, they do it on their own when they see me setting up my week.

This week I asked if I could take some pictures of their planners. They were gracious enough to oblige.

Here is Jungle Boy's gameplan for the week, complete with a draft of a story he's working on, the plan of his earth science project for school, the grim reaper and his brother the happy reaper (who knew?), and what might be a self-portrait of himself playing the trumpet. I love the pictures he filled in the other boxes. And have no fear, his twin corrected him on the number of days until Christmas (39 today).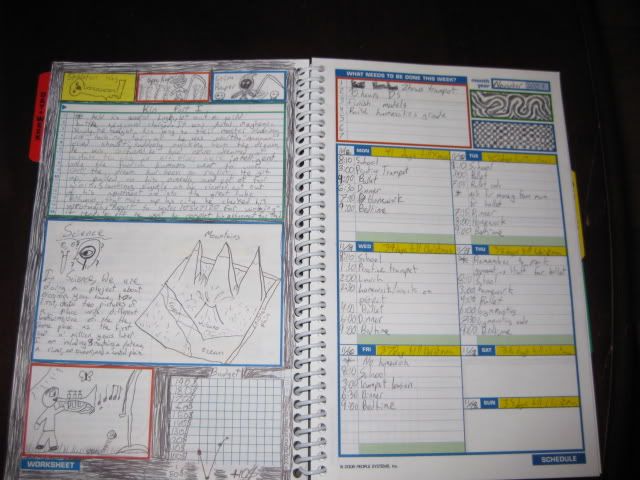 Below is the planner for his twin sister. She has the larger version and I asked her if she could take a picture before she started writing in it. Before she writes she has this elaborate decorating she does with her many highlighter pens. Cracks me up. After she took this shot, she went ahead and wrote over the colors and filled it in.


Seeing my kids get themselves organized makes my Monday. To see more happy posts to start the week, visit Cheryl at Twinfatuation.