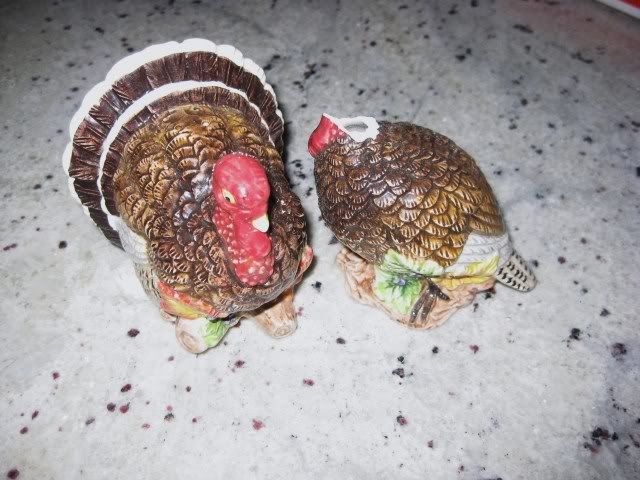 I've been looking for my turkey salt and pepper shakers for a while now. I found them carefully wrapped in a box with some other china. But when I unwrapped them - well, you can see what I found. Not so carefully wrapped after all, I guess.

I thought to myself at the time, "well, here's the worst thing that's going to happen this Thanksgiving." Seems like every once in a while there's a plumbing problem or a gravy disaster to mar the day. A broken turkey seemed a small price to pay. Boy was I wrong.

I adore my husband. I love the fact that he's been doing so much of the cooking since I've been unable to walk. He's wonderful. He is, however, a bit too creative for his own good.

Thinking that if marinating a pork roast in brandy was good, sloshing brandy all over the roast before putting it in the oven must be better.

The gas oven.
I was in another room at the time.

**KABOOM**

We're lucky the house didn't burn down when that brandy ignited and blew up the oven. As you read this, I'm waiting for a repairman and hoping it can be fixed. Whether it can or not, I already told my husband he is cooking the turkey out on the barbecue. It's going to be cold. The evil part of me hopes it rains a little.

I'm not really worried about pulling off the feast. I remember fondly back to college days when a friend showed me how to make an amazing Thanksgiving dinner using only a hotplate and a toaster oven - and a turkey on the barbecue.

I am so thankful. I am very very blessed, and I know it. Have you had any memorable holiday disasters? And what do you think the chances are that my oven will be repaired in time?