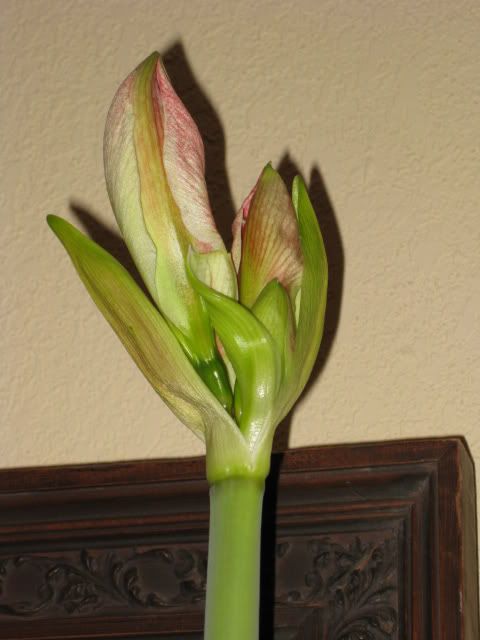 This is the amaryllis I planted many weeks ago. Odds are good that it will unfurl in time for Christmas.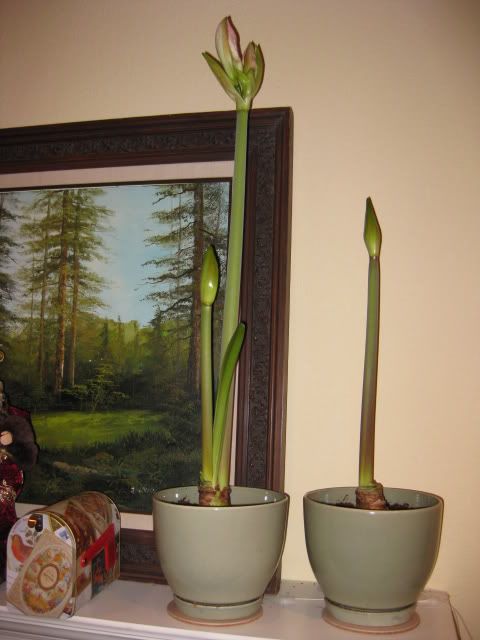 The pair of them are so tall now. Hard to believe they came from the ugly lumps of bulbs. They are symbolic of the season to me; wait - have patience - have faith - and the beauty of the season will unfold.

It's a good message for me to remind myself today. I'm having a hard time getting my Christmas cards done. I'm starting to wonder if the people with names at the end of the alphabet will get one at all, I'm so slow getting through my list.

There are Christmas quilts that will not be finished, needlepoint ornaments that will not get done in time. I will not learn another 20 Christmas songs on the harp, as much as I'd like to. I will not create a perfect gingerbread house and read every Christmas story Dickens ever wrote. But I will see every performance of the Nutcracker that my children dance in, and I will go to their band concerts and jazz band concerts and help my daughter study for her Geometry final. I will get to Church and bake the hundreds of cookies for our cookie party, and somewhere along the way, I will pour some eggnog and sit down and watch "It's a Wonderful Life."

It will all get done somehow, and then like that Amaryllis, Christmas will bloom and be beautiful.