This is a wool felt table runner I finished this week. I just couldn't get to it last month and I didn't worry about it too much. It's for me, and I'm going to pack it away for next year. I love working with good felt, it's so soft.

I'm so happy to check off the first item on my long list of goals for this year. What have you been up to? To play along, just add your click on the Linky below and add the address for a recent post about something you've finished. Can be anything -- my projects just happen to be crafty. Then feel free to grab a button from my sidebar if you'd like.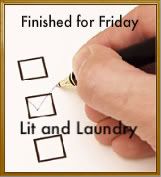 Let's make 2010 a productive year to be proud of!