I have had the same old bedroom for a long time. I wish I had thought to take "before" pictures, but I didn't think of it at the time.

With the entrance of our glorious new mattress I felt it was time to change the tired drab bedding. I had always felt that bedding shouldn't be girly once you're married. But I hate pretty much every color combination of bedding that's out there. Too much taupe, and wine, and dark dark dark.

But I had never actually asked my husband what he thought. When I saw this comforter set on sale at Home Goods I called him and asked for the truth - hot pink? Any possibility?

I should have known better. Dear husband loves me and wants me to have things I love so he gave his enthusiastic approval. Witness the result.


I cleaned off the top of my bookshelf and got some new art and accessories too, all for a song. Those cherry blossoms light up, which my kids think is silly. Probably, but I love them. See my Kindle waiting there for me? This is my happy place. And when mommy is happy, everybody is happy.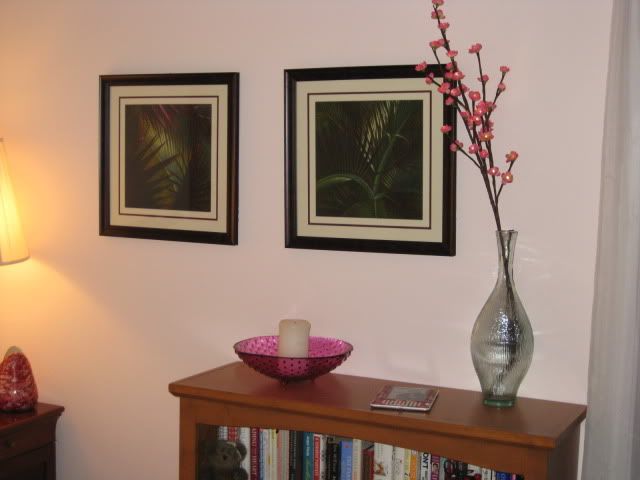 So what have you been up to this week? Get anything checked off your to-do list? Join in with a recent post and let us come congratulate you.

If you're not visiting the other participants, you're really missing some great projects. Lots of inspiration out there for you to tackle something yourself.

Thank you to everyone who has grabbed my button for their blog! You can find the code over on the sidebar on the right. Thanks for joining in!