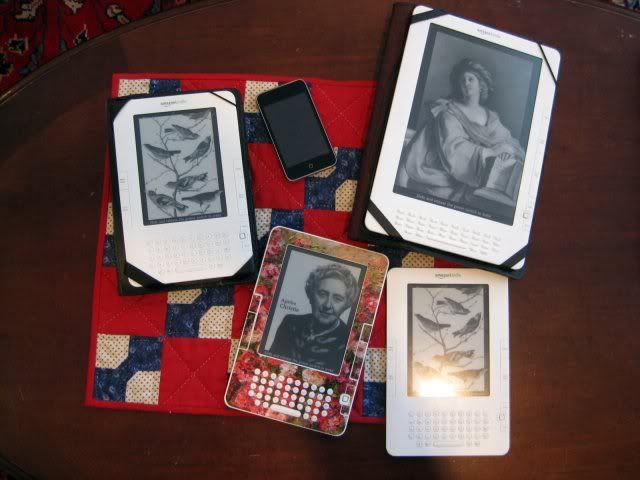 I've been a big fan of Amazon's
Kindle
since I got one last year. My husband got one soon after, in a larger size so he could read work documents, and Drama Girl uses the Kindle app on her ipod touch.
My twins have borrowed mine quite a few times and figured out how to use it in less than a minute. Finally forces conspired to make me take the plunge and buy them their own.
First, their required summer reading book is not to be found in any nearby library. I'm barely able to walk these days so trudging all over town in search of a book is not my idea of fun. I kept thinking how easy it is for me to download any book I want to my Kindle in less than a minute.
But what really tipped the scales was the fact that Amazon lowered the price again. Sold! The twins have their new Kindles, loaded with not only summer reading but dozens of great books.
Jungle Boy will have a sturdy carrying case for his before he heads off to Vermont in a few weeks, and Wasabi Girl wants a pretty "skin" for hers to dress it up (my Kindle, with the Agatha Christie screen saver, is the one you see with a skin on it already.) I promised them both skins and cases before they take them back to school, but one thing at a time as my budget allows.
We're loving our Kindles and sharing books with them. If you're considering taking the plunge, I've added a tab to the top of the blog with some information and links that might help you out.