Today I'm happy to introduce Delyse Trink. Leave a comment on this post and be entered to win a $50 Amazon.com gift card. Leave comments on each of the posts during the Author Party for more chances to win. See the official rules in the tab above.
Tell us about your book.
My romance novel
Wrapped in a Rainbow
is about learning that life can not be completely planned out, but sometimes when you are thrown an obstacle, your rocky path might lead you somewhere wonderful. It is also about finding that one amazing person to share your life with!
What inspired you to write this book?
Growing up with my mother, sister and best friend all being avid readers of romance novels, I had plenty of books to read. I read so many that I felt I had to try to write one myself. My book is styled like those favorite books of mine.
Do you have a favorite character?
Kristy, my heroine is probably my favorite character. She is smart and idealistic at the beginning of the story but even though she gets a wake-up call that her job will not turn out as she hoped, she will not let life get her down. She decides to move on!
What kinds of things did you research to write your book?
Ah, the research was the fun part. I'm from Canada and we love to escape our harsh winters. The Bahamas was the first warm, tropical place I ever went to. It will always be special to me because of that so I used my visits there as research. I know a few of my friends who read my book now want to vacation there. Maybe I should work for Bahamas tourism!
I have a lot of very creative readers. Do you have other hobbies or creative pursuits besides writing?
I love to garden and plant flowers according to a color scheme every spring. It drives my husband crazy that whenever he suggests something to plant it just doesn't seem to go with the colors that year!
I have a line in my book about a hand-made table runner that they are so skilled at making in the Bahamas. The line about trying to learn to crochet comes from my own experience and frustration!
What's on your nightstand (or kindle) right now?
I have so many "To Be Read" books. I have a few from other Kindleboards authors to read. I have a Nora Roberts book waiting. Right now someone gave me a book to read from a local author so I've just started reading that.
Do you have any upcoming titles you're working on?
Yes, I'm working on a Teen/Young Adult mystery story like the Hardy Boys/Nancy Drew type of books.
After that I hope to write a suspense/romance.
What else would you like to add?
Here's a blurb about my book:
What would you do? Would you drop everything and take a chance? Life presents to Kristy a fabulous once in a lifetime opportunity to work in the Bahamas. If she decides to go for it, will it meet, exceed, or fall short of her expectations?
Sexy, handsome Dave is wary and jaded about women. He likes his life in the beautiful Bahamas where his romantic encounters are fast and fleeting. Gorgeous Kristy catches his eye but refuses to play by those rules. In fact she has studiously avoided men like him! David is intrigued by her resistance and so relentless in his pursuit, that much to her astonishment, Kristy finds herself agreeing to go out with him.
They end up having a sensational first date, but then it all turns to shambles. Could it be that David isn't everything he appears to be? Could it be that Kristy isn't everything David assumes her to be? Read Wrapped in a Rainbow to find out!
Brimming with luscious descriptions of Nassau and Paradise Island Wrapped in a Rainbow (Published by Club Lighthouse Publishing) is only $3.19 in Amazon's Kindle store and is also available in paperback!
Thank-you for letting me share my story with your readers!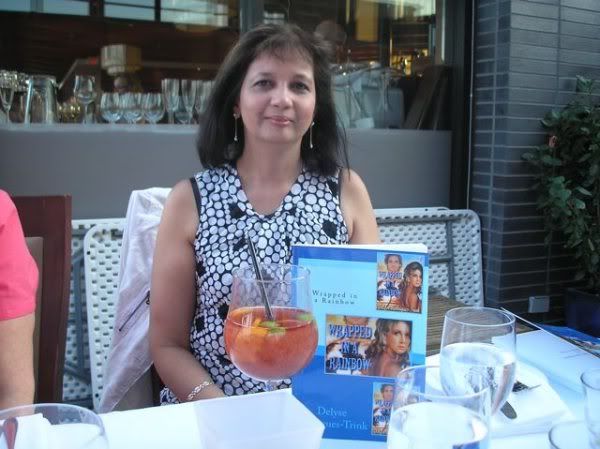 Leave a comment for Delyse!