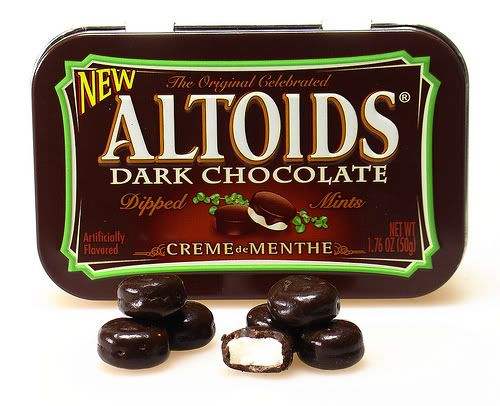 Today was a great day. Was it because the doctor said I've healed perfectly and I don't have to see him again for a year? No. Was it because the kids are all registered for school, which starts Wednesday? No. Was it because after the coldest summer on record we finally had a warm day? Or because I can finally drive a car and escape my
prison
house again?
No, what makes this a great day is the fact that I found my absolute favorite candy in a store. Chocolate-covered Altoids. Have you tried them? I keep a tin in my purse and eat one on very special occasions, like when I'm bored waiting for my kids to get out of ballet class.
When they were first introduced, they were everywhere - checkout lines at Target, candy sections of drugstores. But no more. The hunt can take weeks. Today I asked at a grocery store and the bag boy went all over the place looking for them. "Do you want more than one?"
"No thanks," said I, "I like to live on the edge."
Now it's your turn to confess - is there one special little treat that you would go out of your way to find?