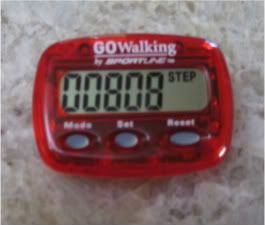 Being able to walk is a great thing. Being able to walk after years of pain and immobility is even sweeter. But endurance? Is elusive.
Did you know that to stay healthy you should walk 10,000 steps a day? That's about 5 miles. Wearing a pedometer has shown me just how far I am from that goal. So every day I add a few hundred steps to my previous day's total. Slowly building up that endurance. I'm determined to get to 10,000.
Do you walk a lot? Give me some ideas of where you go and what you do to increase the steps in your day.
The picture above was taken early in the morning, so I've barely begun my walking for the day. I'll put in a mile or two just hauling laundry around today I think.
Wordful Wednesday is hosted by Angie at
Seven Clown Circus