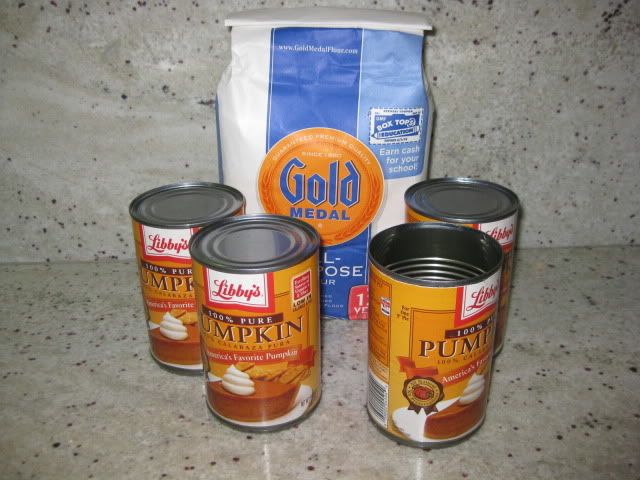 Fall means one thing. No not exciting baseball games. Not back to school. Not flannel sheets on the bed. Sure those things happen in the fall, but there is one important event that overshadows all of them.
Making pumpkin bread. You can keep your pumpkin pie, give me some pumpkin bread. Maybe with nuts in it. Or mini chocolate chips. Or just plain. I might even get crazy and put a little cream cheese on it.
But if you follow important trends like canned pumpkin supplies, you know that last year there was a canned pumpkin shortage. People were buying it on eBay for $7 a can. But this year, according to reports, pumpkin would again line the shelves of our favorite stores.
Let's not talk about buying a real pumpkin and all that - I'm not Martha. If I can't find pumpkin in a can the kids get banana bread again. In fact, the kids are so in love with banana bread that they leave the last 3 bananas in the bowl to turn black just so I'll make it. But back to pumpkins.
I found canned pumpkin in one local store last week. Overjoyed, I bought a can and raced home and mixed up a batch of pumpkin bread. Which I completely messed up. Because
I didn't measure the flour correctly
my husband hasn't hooked my computer back up to the printer so I had to write down the recipe by hand and I miscopied it. Clearly his fault.
The house smelled wonderful - which really killed everyone in the family who walked in the kitchen and couldn't find any pumpkin bread to eat. But I was determined, and hungry, so I grabbed my car keys and headed out to get some more pumpkin.
None. Nada. Zip. No pumpkin for miles. Until today. I went back to a store and found a shelf full of the small cans. The big cans were all gone. I thought I showed admirable self-restraint by only buying four. I toyed with the idea of putting on a disguise and returning later to get more. Desperate times call for desperate measures.
I might just go back tomorrow. You know, if I happen to be in the area. Just to look. Maybe just pick up one or two.