This past weekend I attended the Pacific International Quilt Festival. It's a huge quilt show held every year in October. I look forward to it all year.

The quilts on display were stunning. The grand prize winners in various categories were simply breathtaking. It was such a huge show, with so many amazing quilts to see that I took two different afternoons in order to see it all.

After a few hours though, my brain started to hurt. When I look at quilts, I can't help but picture the techniques that went into making them. I visualize doing the techniques myself - and I end up exhausted at the intricacies I view over and over with each quilt. One woman I talked to there described herself as "visually overloaded." I know exactly what she meant.

So to break from looking at all those quilts, I visited the vendors who filled the convention hall. I got lots of ideas, a few odds and ends of supplies, and this kit that is just so stinking cute.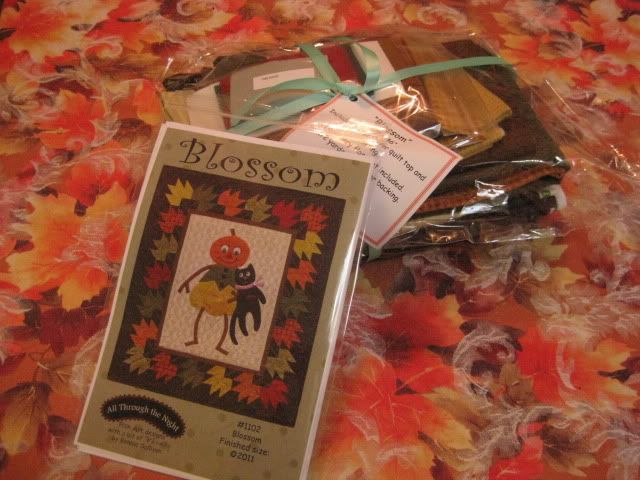 I don't often get kits, because I have so much fabric on hand myself I usually just need the pattern, but the model they had on display for this one was just too wonderful to pass up. Lots of rich wools and soft flannels.
Blossom the pumpkin girl (or is that the name of her cat?) probably wont get started until closer to next Autumn, but just the anticipation of working on this one makes my Monday.
To see more Monday makers please visit Cheryl at
Twinfatuation
.