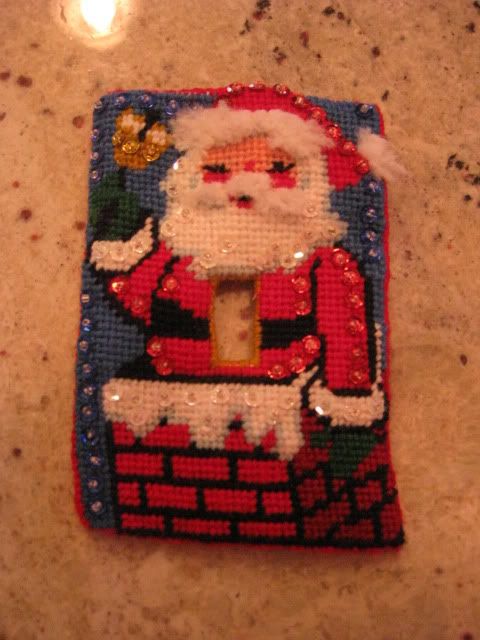 I confess I'm one of those people who can sometimes spend huge amounts of time just looking at stuff on ebay. I particularly enjoy looking at vintage needlework patterns and kits. When I saw this needlepoint switch cover as a kit I knew I had to have it. Vintage 1978. I love the fuzzy stitches in his mustache and hat. I love that it called for sequins -
lots
of sequins. I cut back a little. I also love that it shows Santa with green mittens. That was his best era I think. You don't see him wearing those much any more.
The instructions didn't explain how to stick it on the switchplate, but I'll figure out some kind of sticky thing.
My new fascination with Pinterest has led me back to my love of crochet. I found this pattern and had to make it. The moment I finished it and took a picture Wasabi Girl grabbed it and took it to her room. Guess she couldn't resist having a giant peppermint pillow. So easy I might whip up one or two more. Do you think anyone would want one for a gift? hmmm...
What have you been up to this week? Link up and I'll visit as soon as I can. In a few hours I'm jetting off to Disneyland and family in Southern California. Hope you have a wonderful Thanksgiving!