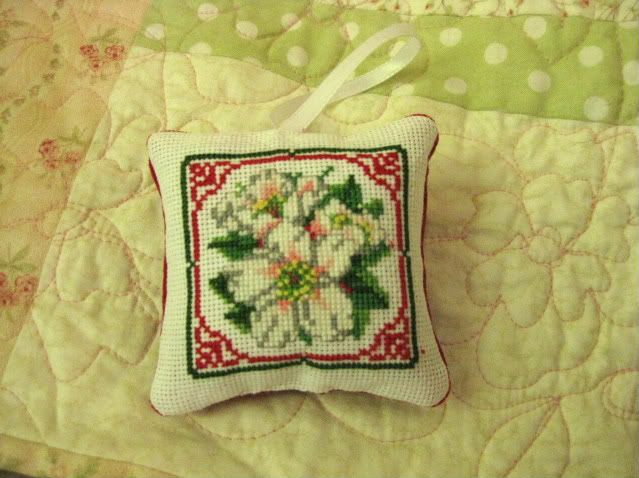 I finished up this ornament I started this week. I love how it turned out. This one might become a gift. I think this pattern is so pretty I might make this one again. Sort of a subtle Christmas symbol.
Here is a less subtle Christmas symbol. I finally finished this piece up as a pillow. As you can see, I still need to squish around the stuffing a little bit to get the top less pucker-y. I put off the finishing step on this one for a long time because I always use velvet to make my Christmas pillows, and velvet makes an absolute mess in my sewing area. When I cut it, I get these little tiny tufts just everywhere. It takes me a while to get the whole place cleaned up. Still, it didn't take me very long to sew this up, I don't know why I procrastinated so long with it.
Having finished two things, I looked in my basket of projects that were stuck at the last finishing step and found one more for this week. (Please tell me you have a basket of unfinished projects!)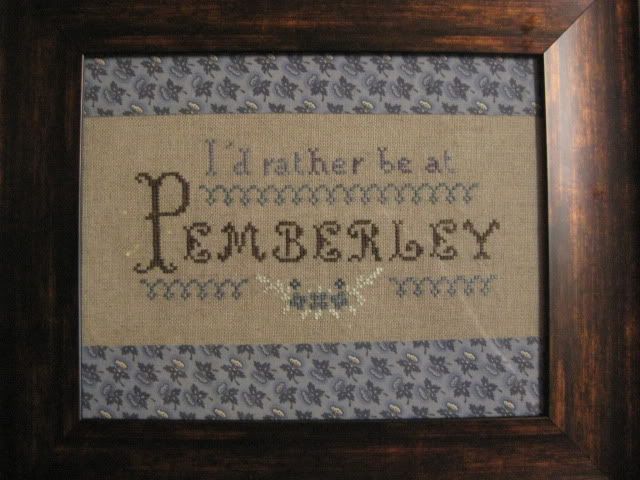 I had put this one off because the directions suggested finishing it with some "Regency era fabric." Right. I was pretty sure I didn't have anything that would work in my stash so this one went into the basket. Guess what? As soon as I started looking I found several fabrics that would work. Kicking myself again for putting off the finishing step on this one.
The pattern for this can be found at
The Sampler Girl.
Hope you're not as hopeless a procrastinator as I am! Link up and show what you've been up to this week. Thanks for playing along and have a great weekend.