Had a great evening with the whole family last night when we went to see The Lorax. Here are my kids, 15 and 14 and 14 years old, and we still all love going to see a kiddie movie together.

Back when the kids were very small, I subscribed to a Seuss-of-the-month club and got a new Dr. Seuss book each month for several years. I treasure all of the memories and the kids remember all of the books well.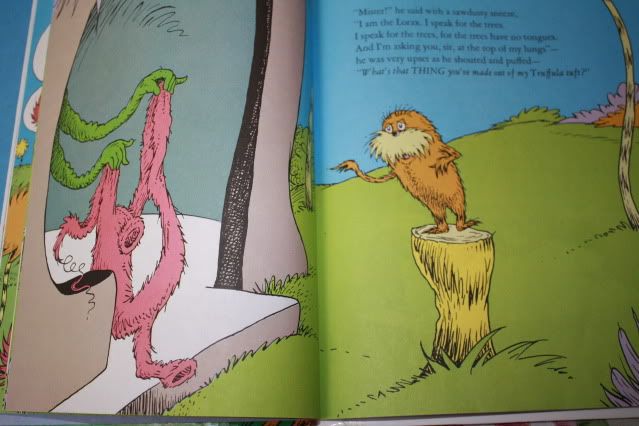 The Lorax is one of the more sophisticated stories with a message, but even children can relate to how much the Barbaloots love their trees and how wrong it would be to cut them all down.
The movie is gorgeous and my kids burst out laughing at many of the funny parts.They have pretty sophisticated tastes now, so I consider this high praise for the movie.
It struck me as we were walking out toward the car that although they still enjoy kiddie movies, my three have really grown up.
"I liked the music!" I said
"I already downloaded it!" chimed in Drama Girl as she started playing it back on her phone.
"Hey! The Once-ler was Andy from The Office!" said Jungle Boy, also tapping away at his phone as he researched the cast list.
I miss reading them stories at bedtime. Thanks for all the happy memories, old and new, Dr. Seuss.
Makes My Monday is hosted by Cheryl at
Twinfatuation