On Wednesday evenings, if I play my cards right, I have a free hour or so while Drama Girl and Jungle Boy are at ballet and Wasabi Girl is at gymnastics. On this Wednesday night, I put my feet up, put on some Chopin and immersed myself in my stitching project. My mind went pleasantly blank for the first time all week. I was having a moment of bliss.

I snipped a thread and looked up, and out the window which is right next to my chair. What did I see just inches from my nose?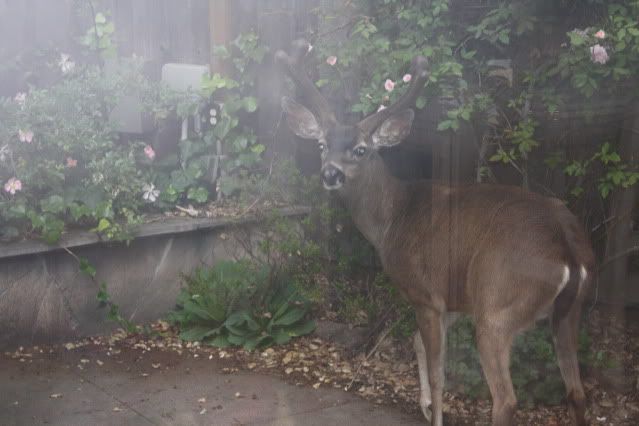 Somebody
was eating my roses. Forgive the fuzzy picture - I took this one through the screened window.
I opened up the sliding glass door and took a few more shots as he slowly started walking off.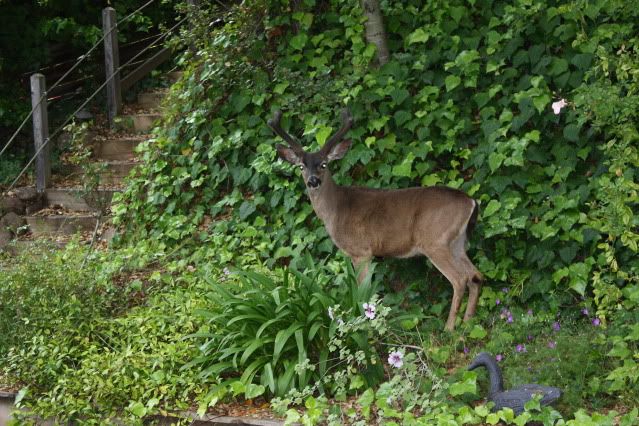 His antlers still have their velvet on them. He wasn't particularly scared of me, but the sound of the camera clicking got his attention. I gently shooed him out of the yard and closed the gate so he can't return and eat the rest of my roses. It was my fault this time that the gate was open.
I love our local wildlife - as long as they don't dump our garbage cans or eat the roses. Do you have any interesting creatures roaming around your neighborhood?