This poor Fall quilt was up on my design wall for a while and then got replaced by some other projects. I've picked it up again and now the rows are sewn together. The colors look even better now that it's not all individual blocks. I've got the setting triangles all cut but after that there are two more borders that have a lot of piecing, so this one will take me a while.
My caldron cross stitch is taking some time, but I love how it's coming together. There will be a big spider web in the upper right and lots of details and bead work on all the critters. Still many hours to go.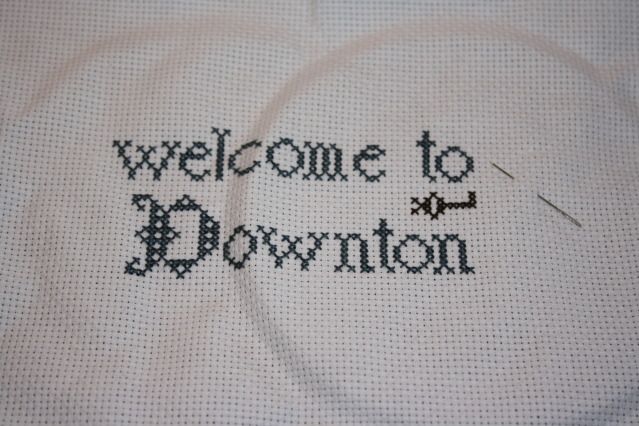 I started this quickie by the Sampler Girl. I'm only going to work on it while I'm actually watching Downton Abbey, so it might take a while to finish as well.
All stitching takes a back seat this month as I do my volunteer work for our local tutoring organization. I enjoy matching up tutors and students. Everyone wins. It's just challenging sometimes to find schedules that work for everyone and rooms for them to meet in our very crowded local elementary school.
I sound like an old lady, but I can't believe I'm already seeing candy corn and Halloween peeps in the grocery store. It's one thing if I want to get a head start on crafts for the holidays, but I really don't want to see the commercial stuff that early! I'm pretty sure the pumpkin patch down the street was setting up as well. Buy pumpkins in this weather and they'll rot on your porch in a week.
How soon do you start decorating for Halloween? Or for Fall? Maybe it's time for me to pull out some Fall quilts.