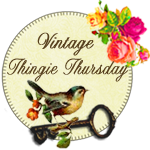 Wonderful heavy ceramic mixing bowl with a Halloween motif. Not Homer Laughlin, alas. Those are hard to find but very similar. This one gets to live out on my counter for the season.
Vintage Thingie Thursday is hosted by Suzanne at
Coloradolady
. Visit her blog for lots of vintage goodness today.