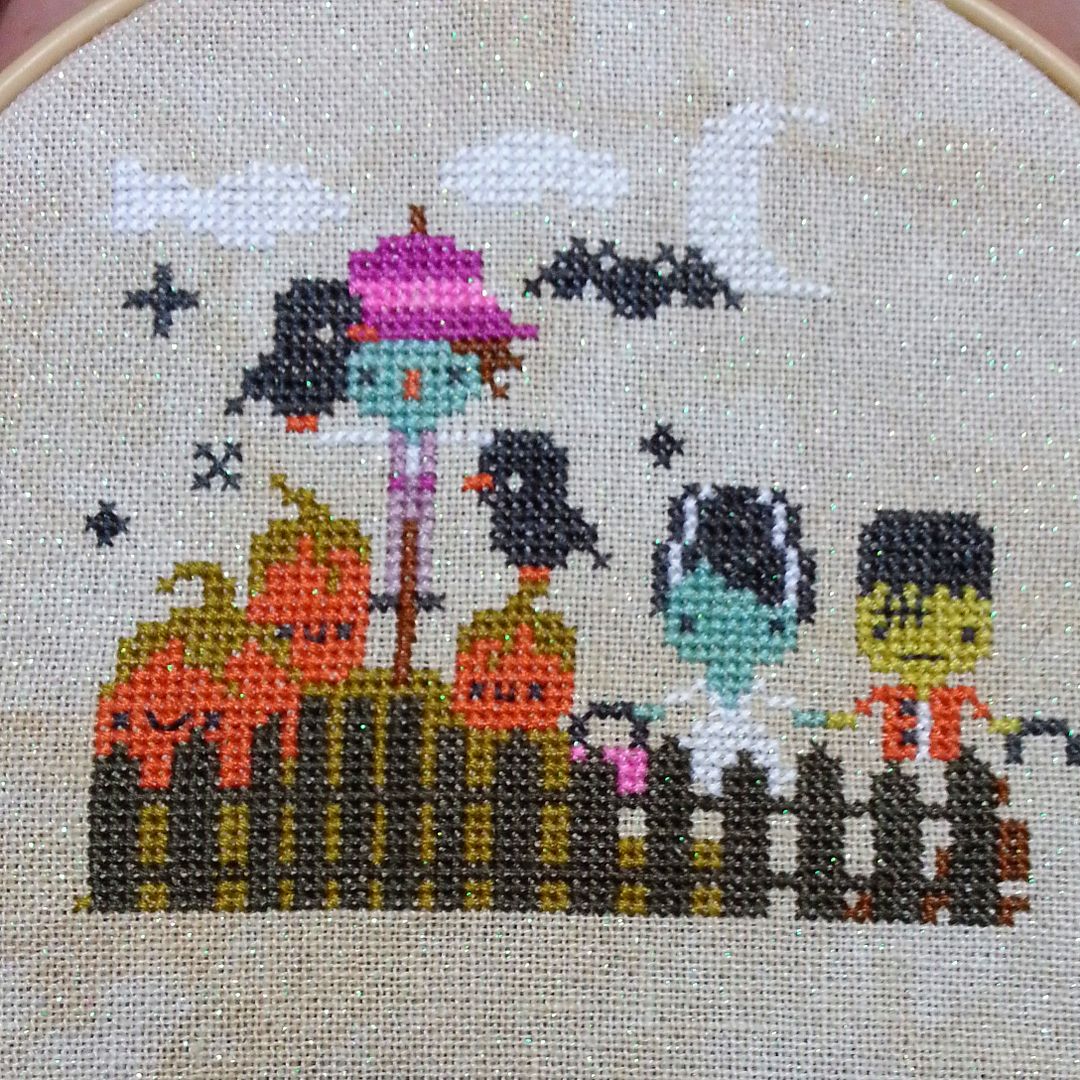 I've started another project. Of course I have. I'm all about starting more things than I can finish in a lifetime.
I've been seeing lots of pictures on Instagram of this project. The pattern is by
Frosted Pumpkin Stitchery
and is coming out in four parts. I have the first two and this is most of part 1 complete. I think I might switch the white moon to yellow. The beauty of Instagram is seeing how other people have changed the pattern. It's fun to stitch along with others who are working on the same project.
While I stitch, I've been listening to a great audiobook;
The 100-Year-Old Man Who Climbed Out the Window and Disappeared
. Here's a link to the kindle version:
It's a funny, somewhat dark story of an old man who escapes a nursing home and gets more than he bargains for. Chapters about his present are interspersed with tales of his life and adventures during the 20th century. Like Forrst Gump, he meets a lot of famous people and has a hand in changing the course of history. I laughed out loud a number of times. Good silly fun.
Everybody is getting ready to go back to school this month. I used to love August vacations but they're just not possible any more. I liked the old days when school always started after Labor Day. Jungle Boy is going to middle college starting next week. He's still enrolled in high school, but he takes classes instead at the local community college. Such a great opportunity for him. He'll be able to transfer all of his credits and possibly shave a year or more off of college.Wasabi Girl goes back to high school the week after that.
Drama Girl and I are all set to fly her out to college. We spent two painful hours at the sheets and towel store trying to get her to decide on things like a comforter. No luck. There were too many choices. I thought something like pillows would be easier - good grief! She actually laid down on the floor to test different types. Then we picked the kind of towel she wanted - but it took her
forever
to pick the color. Why was it all so hard? At least she has a new quilt to start the school year. If she wants a comforter as well, there is time to ship it to her before it gets cold there.