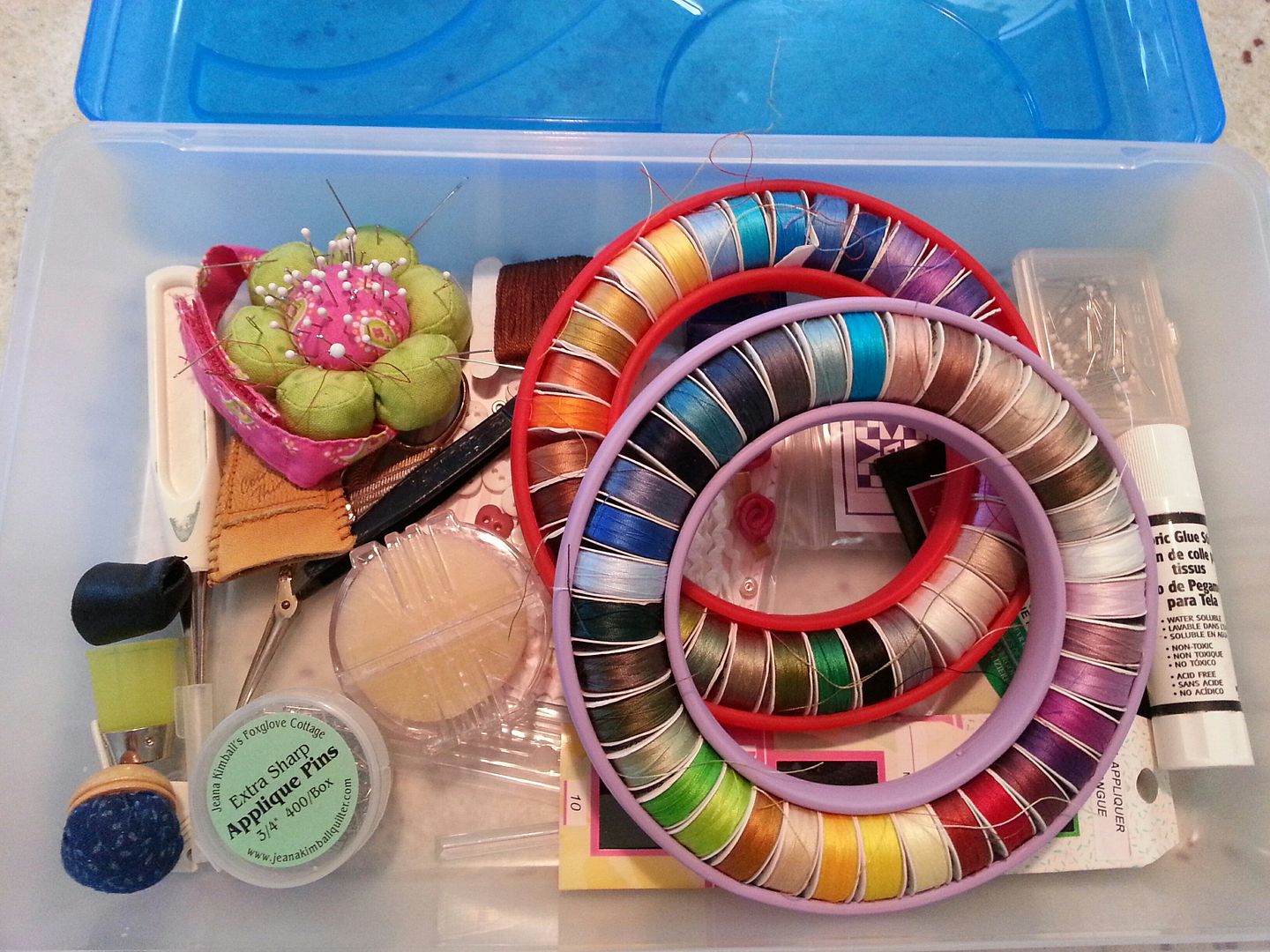 My applique kit is one of my favorite things. I open it up and find a jumble of perfect tools to help me do hand applique. Here is my list of top favorites. This does not include the tools I use to prep applique pieces - I do that using several different methods. This is just what I keep handy while I'm relaxing and stitching. Clicking on the pictures will take you to the product pages at Amazon.
Superior thread donuts. Nice weight thread, strong, and every color I need. I just pop the bobbins in and out and nothing ever gets unwound. There are several sets of colors to choose from.
Beeswax and thread heaven. I use one or the other depending on my mood. Both work wonderfully to help the thread glide and not fray.
Needles. Many styles for many moods. I tend to use longer needles to help me sweep stray threads under. Bohin Applique size 10 are a current favorite. Maybe because I find them easy to thread.
Glue stick. Sometimes inside points want to put up a fight, so I stab the needle into the glue stick and sweep the tip of the needle under the threads. It's just enough adhesive to help short threads stay in place while I stitch.
Tweezers. If I've prepped with freezer paper on the back side of fabric, the moment comes when the paper needs to be pulled out at the end. I also find long black cat hairs all over my work and sometimes I need the tweezers to clean everything up. I like a cheap one with a flat end.
Embroidery scissors. Sharp, fine-point, and cute. I have a dozen pairs around the house but one always lives in my applique kit.
Pins. For days when I'm doing needle-turn or to hold pieces in place while I baste them. I like Clover brand with a white head because they're easiest to see and hold.
Pincushions. I have one that fits on a finger if I'm moving a lot of pins in and out of a piece while I work. Also a wrist pincushion that sits more than it gets worn. I have found it too easy to stab myself in the wrist with that one.
Thimble. I don't use it often, but sometimes my finger gets sore or I find I'm going through extra layers. I like a simple lightweight leather style, but I keep several different kinds handy.
Cocktail skewer. This nicely shaped piece of plastic is another tool for pushing around fabric and tucking it under. The picture links to the product, but it's more fun if you go out and get your own in a nice cold drink.
What are some other tools that you like to use while doing applique? Help me find some new favorites to try!